Are you constantly sending out your resume only to get irrelevant responses or no responses at all? Then now is the time to reevaluate your resume strategy!

The biggest pitfall of resume writing is to merely state your past responsibilities and job history. You don't want the hiring manager to work at determining what you have to offer them and what you have accomplished. You need to sell your accomplishments and work experience. Another common error that job seekers make on their resume is to make it too 'me' focused:

More Pitfalls…
Legible Font. You want to make sure that all the information is legible. Don't detract from what you have to offer by highlighting your name and/or contact information with a special font.

Objective versus profile. Notice how the sample below provides a general objective without offering anything for the hiring manager. A profile is a way to convey what you have to offer a potential employer, not what you want from them.

Don't just list responsibilities. Most hiring managers know what the average duties are for a given position and don't need a job description from you.

Provide quantitative and qualitative data wherever possible. While the content can be similar for both a "good" and "bad" resume, it's the lack of measurable (i.e. quantifiable and qualifiable) data provided that distinguishes the two.

Order of information. This applicant graduated over five years ago, yet leads with her education. In general you shouldn't place your education before your experience if you're not a recent graduate, have an advanced degree, and/or want to work within education.

Leave off the personal information. The need for including hobbies has long since past. Employers want to know what professional organizations you are a member of, what publications you have written, what professional awards you have won, etc.

'

Bad' Resume Sample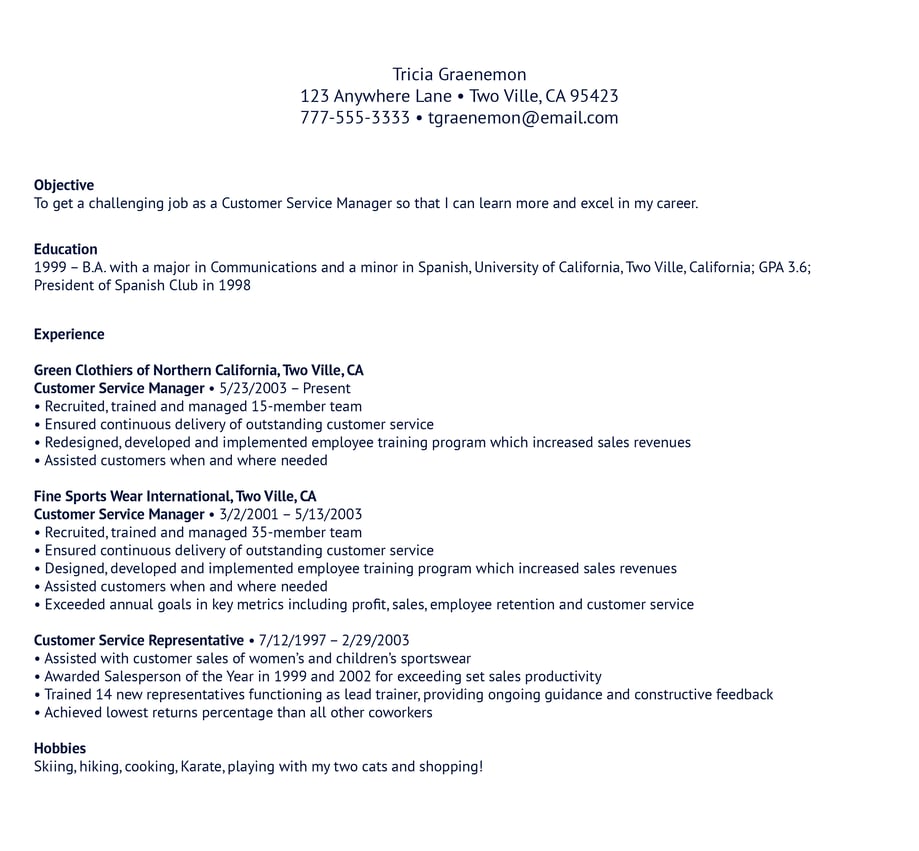 ​